Floss Options for your Unique Hygiene Needs
Everyone knows the importance of flossing for tooth and gum health. Brushing alone doesn't reach below the gum line or between teeth where your mouth is most vulnerable to bacteria and decay. Flossing twice a day is a great way to prevent plaque and food debris from building up and causing you future problems. But with so many different options to choose from, it can be challenging to find the right type of floss for your unique needs.
Below we've highlighted the most common challenges people have when flossing, and products that work best for addressing these issues.
Crowded Teeth
Crowded teeth can present the issue of being so close together that tight contacts may make it difficult for floss to pass between the teeth. It can also shred, get stuck or break off between tight teeth causing discomfort and irritation. The best products to use for flossing with crowded teeth are Oral B Glide Pro-Health and G.U.M. Eez-Thru floss. We carry both of these products at the clinic and give away complimentary samples to clients at appointments.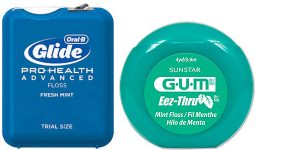 Deep Pockets
This issue can be tricky to address, especially if teeth have tight contacts at the top, but have a deep pocket or space around the gum line. Teeth with this challenge are a catch-all for food debris and it can be difficult for floss to first pass through a tight contact and then collect and clean the debris out the pocket. An expanding, multifilament floss is best for these types of teeth, such as G.U.M. Expanding Floss. This product is a thin, multi-filament strand when pulled taught to get through tight teeth, but then it expands once the strand is contracted – plumping up once wet and easily removing debris and plaque.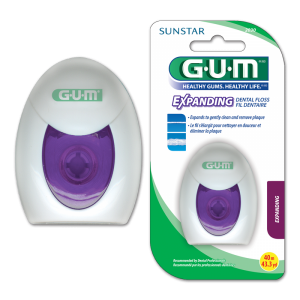 Braces and Bridges
For people with dental appliances such as braces or bridges, it can be extra challenging to clean between teeth and around appliances. The best product for this is a tufted or braided floss such as Oral B Superfloss. This is a fluffy, multi-filament strand good for cleaning between larger spaces that also has a stiff, bristly end designed to make it easier to pass under dental appliances.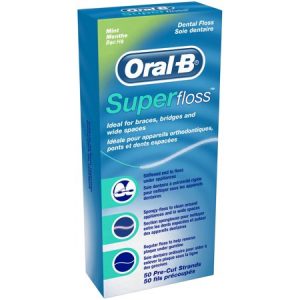 Gaps
With gaps or wider spaces between teeth, an expanding or tufted/braided floss is recommended. Either G.U.M. Expanding Floss or Oral B Superfloss as described above would present good options for dealing with gaps.
Whitening
For persons that are undergoing whitening treatment, it is desirable to use a whitening floss to gradually lighten the areas between the teeth that may be visible but more challenging to treat. Regular use of a whitening floss can help prevent stains from building up between your teeth and even out the colour to match whitened surfaces. Oral B makes a 3D White whitening floss, as does Listerine Healthy White.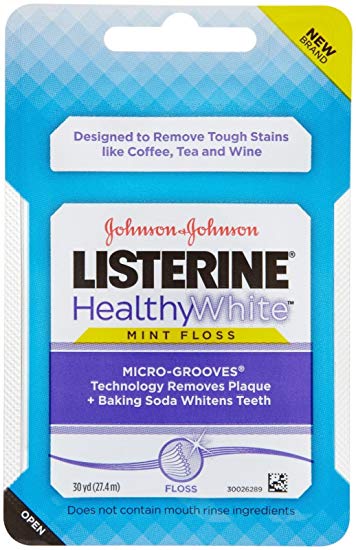 Allergies & Sensitivities
Persons who suffer from certain allergies or chemical sensitivities may find commercial dental products can cause them irritation. The majority of traditional dental floss is made from nylon and may contain chemical wax coatings, artificial mint flavouring and/or propylene glycol for that 'cooling' minty feel. For an all natural option, Radius makes a vegan floss with plant-based flavours and waxes, as well as a natural Silk version that comes in plain or natural mint flavours and is 100% biodegradable.
Zero Waste
Many people are not only concerned about their own health but the health our of the planet. The zero-waste movement is about lessening your impact on the environment and reducing the amount of waste headed for the landfill. Now that Calgary has implemented a composting program, the majority of bathroom waste (tissues, cotton balls, swabs) can now be composted. Choosing a compostable floss with recyclable packaging is a great step toward making your bathroom zero waste. Radius makes one as highlighted above, or if you prefer to shop local, Inglewood Apothecary sells a refillable option called the KMH FlossPot.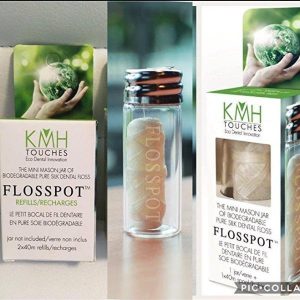 Now that you know all the options for your own unique hygiene and lifestyle needs, we hope these recommendations can help your flossing experience go a little "smoother". Keep up the excellent care and we look forward to seeing you at your next appointment!